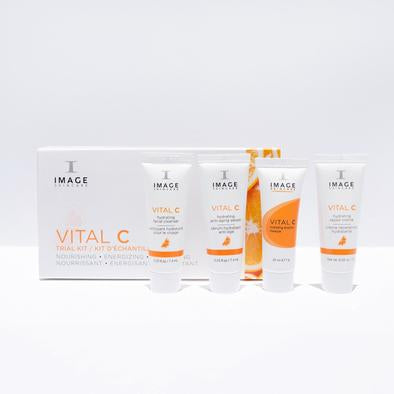 Image Skincare
Vital C Travel / Trial Kit
---
The products revitalize skin that is fatigued, and they soothe skin that is irritated. This kit provides a great solution for people who have tried other products without success, and it offers the benefit of trial sizes to give you an opportunity to sample each item. If you suffer from overly sensitive skin, or you feel that your skin needs to be revitalized, these products may be ideal for you. The primary ingredient in these products is vitamin C, which is an antioxidant that works effectively to improve the skin.
What the Kit Contains
The hydrating cleanser improves the tone of your skin, as well as its texture. Makeup and oil are gently removed from the surface of your skin. Impurities are cleansed away, and dry skin is hydrated as well as cleansed.
An anti-aging serum provides your skin with advanced hydration. Dull skin is rejuvenated, and tired skin looks brighter and feels better. This serum works to combat fatigue, dryness, and the effects of environmental damage.
The hydrating moisturizer adds moisture to your skin. It also works to keep it hydrated day and night. Your skin should become smoother and more resilient with each application.
A hydrating enzyme masque exfoliates skin that is dull, fatigued, and dry. Dead skin cells are removed from the skin surface to reveal skin that looks fresher. This product also keeps the skin continuously hydrated.
The repair críÂme offers extra hydration to your skin. This rich críÂme helps to combat the effects of aging skin. The skin is repaired and renewed.
How to Use
Apply the cleanser to your skin twice daily. It should be applied gently and rinsed off with warm water. The serum can also be used twice each day. Apply it to skin that has just been cleansed. Apply the moisturizer twice per day to skin that has been cleansed. The masque may be applied up to three times per week. Leave it on cleansed skin for five to thirty minutes, and wash off with warm water. The repair críÂme should be used at night on freshly cleansed skin.
---
Share this Product
---
More from this collection